'I just looked up and it was there.'

08-01-2015 UFOs Spotted Over Swanley And Bexleyheath, Kent, UK
A Swanley contractor claims to have seen UFOs over Bexleyheath - almost 60 years after a flying saucer reportedly landed nearby.
Tony Histed, who lives off London Road, pictured a saucer-shaped object in the sky around 11.20pm on December 30.
He said: "I just looked up and there it was, then it just shot off - it didn't make a noise."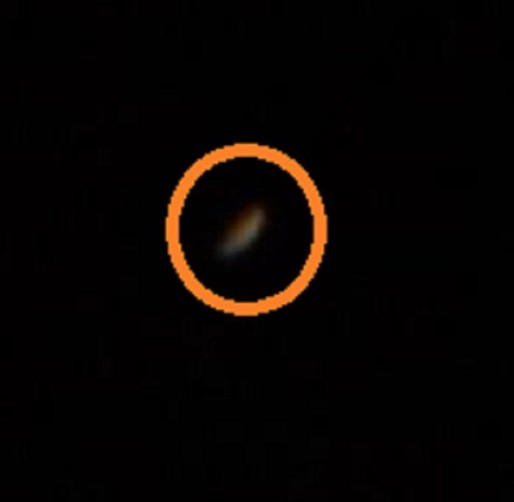 UFO? Mr Histed photographed this strange object (circled) in the sky in Swanley
In September last year, the contractor was working at building site off Briarfield Close when he first saw strange lights in the sky above King Harold's Way during the onset of a thunderstorm.
He said: "As I was walking out of the site, I noticed a bright light in the sky to the east I stopped and watched it as it came across the sky towards the storm.
"One more appeared in front of it, and they both flew silently on into the oncoming storm.
"I went back to the site and when I got there I went up on the scaffolding when this orb came up off the ground followed by another orb.
"They then levelled off and flew to the north east, the last one split into two and the re-joined again and then they disappeared."
The 51-year-old was shocked to find out that King Harold's Way is famous in UFO-circles for a reported sighting in 1955.
More than 30 people reportedly claimed seeing a circular craft with eight suckers hovering above the ground.
Since then Bexleyheath has been listed as one of the top 10 UFO areas by expert and author Nick Pope.
Mr Histed added: "When I looked on the map I saw that I was over looking the landing sites, it was just down the road from where I was delivering.
"Now is this a coincidence or what?"
Alien encounters in Bexleyheath
1952: Ken Fairman, from Bexleyheath, reported seeing 30ft-wide space craft hovering 18ft above Warren Way, Bexleyheath.
July 1955: 30 people reportedly claimed seeing a circular craft with eight suckers hovering above the ground.
September 2004: Dorothy Godfrey, of North Road, Belvedere, saw three UFOs hovering above her bungalow.
September 2004: Donna Taylor and her mother, Diane, saw a UFO from their sitting room in King Harold's Way.
April 2010: Deborah Perry spotted up to 30 "flying craft" in the night sky above her home in Barnehurst.