Hi guys, I had a sighting in the early hours last night (24.07.2014) in my village of Broughton Gifford near Melksham, Wiltshire, UK.
It was 3.30 am, and I was standing at the window looking out at the night sky, when I saw an object come into view, 42 degrees south west, which would be in the general direction of Bradford on Avon.
As I watched, the object stopped, (at a distance which I would estimate to be the length of a football field) and about 150ft from the ground.
I started to wave at the object and it stayed still for approx 10 seconds, almost as if it was observing me; then it started moving off slowly to the east, and when it was out in the distance, I could see another object flying towards it; then the 1st object stopped, at which point they both flew-off together side by side, to the east, until out of sight.
Luckily I got a really good look at this craft with my bare eyes when the thing was stationary, and also with a pair of binoculars a bit later, just as it started to move off to the east.
The object was triangular in shape, about 6ft x 6ft x 4ft, with some sort of pyramid structure sat on top of it; the main body seemed metallic, judging by the way the light was coming from it, while the pyramid on top radiated a bright off-yellow colour.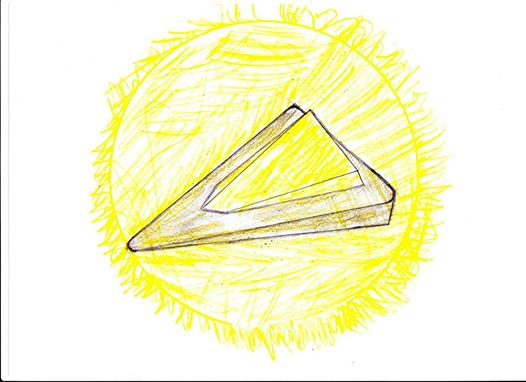 There was no sound from the UFO, it was completely silent.
I wonder, did anyone else out there see these objects moving in the skies last night?
J.