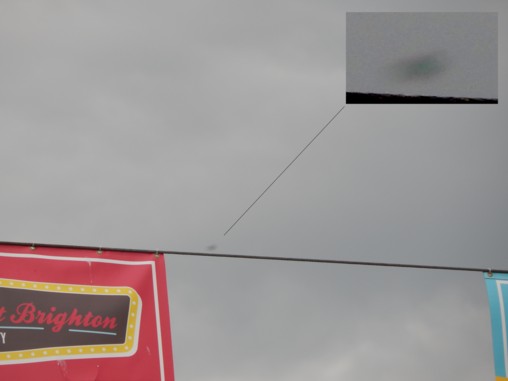 Above: Original case image shown with unidentified flying object enlarged (inset)

Black Disc Shaped UFO Moving Erratically Over Brighton, UK - 07 06 2014
'I was sitting in The Mad Hatter Cafe on Western Road on the junction of Montpelier Road, with my girlfriend. We were sat inside opposite the open double doors. Outside was a cable between two buildings that went above the road which had banners on it. Slightly above the cable, I saw a black dot, stationary.
I initially thought it was a seagull hovering in flight. Upon watching it for about twenty seconds, I decided it was not a hovering, distant bird.
My staring caused my girlfriend to ask what I was looking at, and I told her there's something up there that's not moving.

About a minute had elapsed by this time since first spotting the "dot" and it had not moved from its position, although I did notice it rise and fall very slightly before remaining still again.
My girlfriend then went out of the doorway to look. By now it must have been just over two minutes in since my first awareness of the object.

I then went outside and took a photo.

Immediately I took the picture, the "dot" began to move in a southerly direction, but erratically, in that it seemed to go up and down, whilst moving forward at the same time, and then loop around on itself.
At this point I briefly looked away to check my camera, but my girlfriend was still watching the object, and she said it descended behind a building in the foreground which hid it from view.'