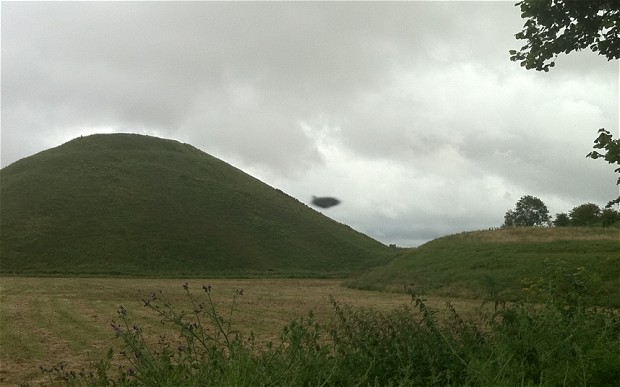 Above: Original case image

2012 (Precise date unknown) Jane Randall from Woking, Surrey, captured a strange looking object in the skies above Silbury Hill, Wiltshire, UK
Jane Randall, a housewife from Woking, Surrey, captured a strange looking object in the skies above Silbury Hill in Wiltshire when she took a photograph using her mobile phone while taking part in a field trip to learn about the archaeology in the area.
She said: ďI didnít see anything at the time, nor did the ten people I was with, but when I looked back over the photos there were two pictures a second apart with this strange conical shape hovering behind the hill.
ďThe pictures I took either side of this didnít have any mark on them so I donít think it could have been dust on the lens.
ďIím just an ordinary person, but thought I should report it to someone so they could take a look. When I phoned the police, they said it was not a police matter and I spoke to someone at the RAF who said they did not investigate UFOs any more.Ē
Below; object enlarged.