16-02-2020:
Jellyfish UFO Captured On Video, Sao Paulo, Brasil, South America

[Fresh in Today!]

YouTube link here.

This is undoubtedly the best recording of a jellyfish-type UFO critter captured so far.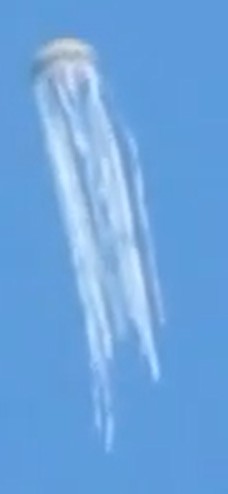 Crop detail

It is rare and incredible proof that crypto creatures, (those, supposedly unknown to science) DO exist!

In the video, proof that this is not merely a balloon can be seen in the way that its tentacle-like appendages do not blow in the wind.



BEAMS Comment: We wouldn't mind wagering that before being noticed, many white sphere-like objects were ejected into the sky from this body; btw, Sao Paulo is certainly no stranger to such inexplicable phenomena... please see

here

.