Flying Saucer-Shaped UFO Newton Abbot Devon, UK on 15 May 2014
Witness Description: Hi: I took these photographs at 11.29 AM GMT in Newton Abbot Devon, UK on 15/May/2014. The object appears to be a domed saucer. Here is my analysis of the two photographs. (See slide show above.)

UFOs NorthWest Note: Analysis indicates that the 2 original photos sent by the witness were not edited and were sent as output from the camera. Photos were taken with a Fujifilm FinePix F900EXR 16MP Digital Camera.

It would have been very difficult to have hoaxed these photos because in the original photos the object could hardly be seen. The photos revealed good detail when zoomed and with adjusted contrast because they were taken with high resolution camera. It is believe that the witness was taking photos of the aircraft (well defined contrail) and later found the UFO when viewing the photos. An email has been sent to verify this. This same witness has sent quality photos in the past. I donít believe that the object is UAV or any identifiable artifact (bird, insect, etc.). I believe that it is a photo of a genuine flying saucer. The fact that 2 photos were taken adds strength to this argument.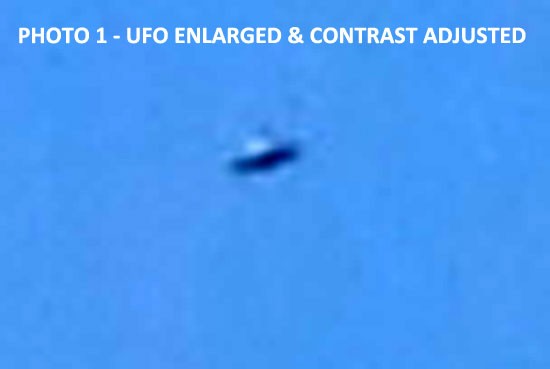 And here, (below) is yet another photo of a similar UFO event from the same area, same year!
This domed saucer photo was taken on 17 July 2014: 3:06 PM GMT - Newton Abbot Devon, UK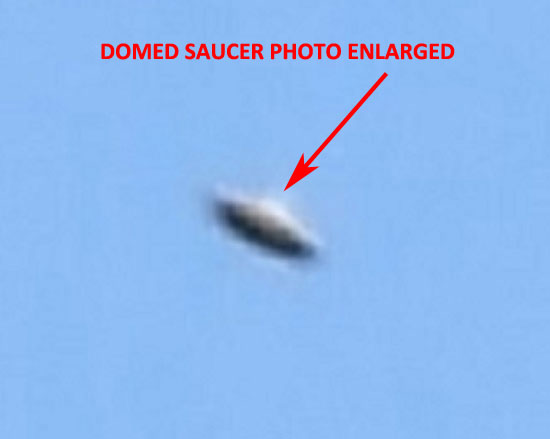 Witness statement: I observed the object for about 5 minutes and the UFO was moving right to left and then stopped. It then flashed an orange light before zooming off to the right.
Note: This witness has captured many UFOs on camera. A check of his original photo in the above slide show does not indicate any "tampering."